Texas Quail Hunting At Its Finest
Whether you're a seasoned bird hunter or new to the sport, there's nothing quite like an action filled day of Texas quail hunting with First Shot Outfitters. First Shot Outfitters was recognized in The World's Best Shoot, as the Best Wild Quail Hunting in the World. Here at First Shot Outfitters we hunt 100% wild bobwhite and blue scale quail. Whether your hunting party seeks blue or bobwhite quail, our knowledgeable hunting guides and extraordinary bird dogs will ensure that you experience the sport of the hunt at its finest. Our guides are professional, personable and accomplished sportsmen, as well as gifted dog handlers.
Each guide will be equipped with rigged out, double seated Polaris ATV's and with at least 8 fine tuned bird dogs on the truck at one time. Our determined bird dogs immerse themselves in the hunt and will eagerly work at your side doing what they love best all to ensure you a successful, enjoyable and memorable hunting trip. First Shot Outfitters controls over 600,000 acres throughout the great state of Texas, therefore we are able to go where the birds are most populated for that season.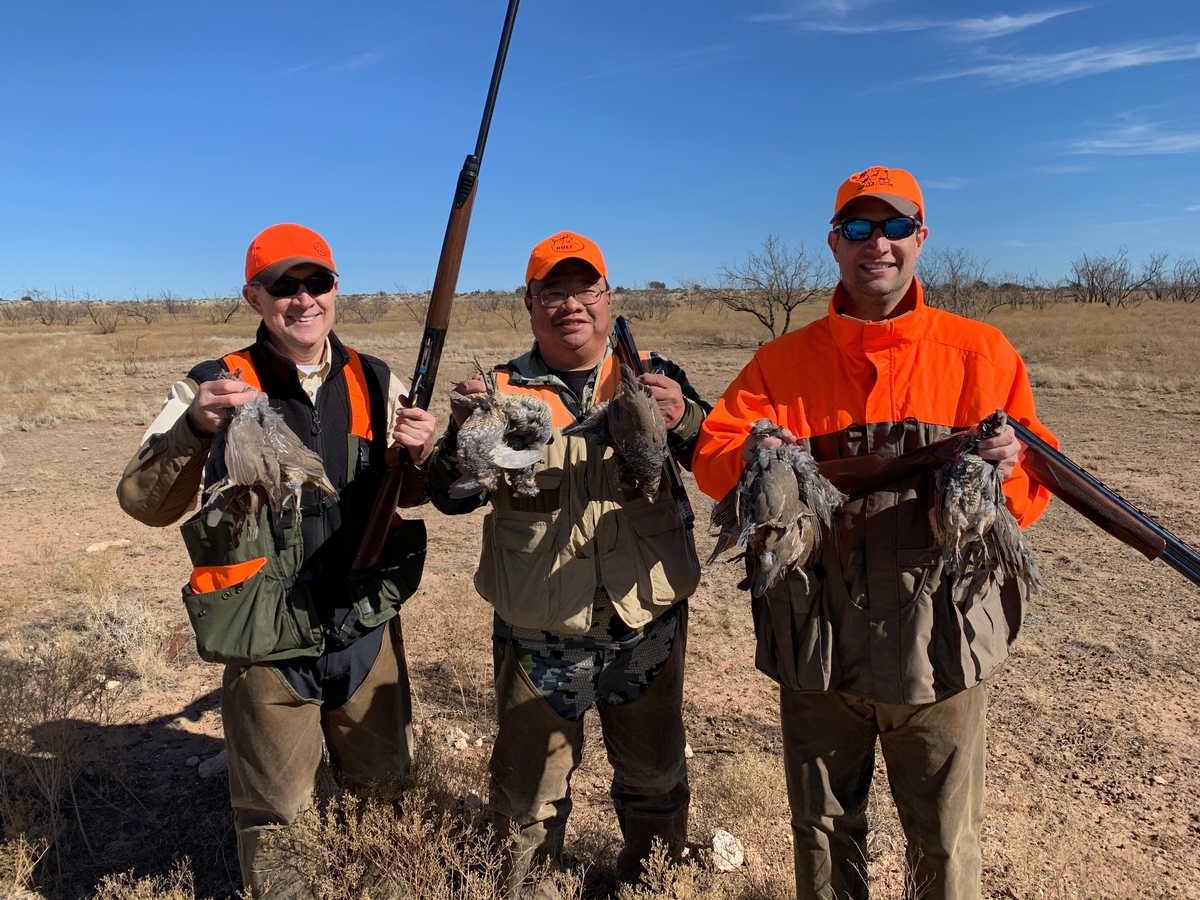 Wild Quail Hunting Packages
Guest will arrive after 5PM on the evening before their first days hunt and supper will be served later that evening. The next morning you will have breakfast and head out for the quail hunt as the sun is rising. Around Noon you will break and head back to the lodge for lunch and a bit of relaxation. Around 2:30 PM you will head out for the evening quail hunt and hunt until you have bagged your limit or the sun sets on you. Departure morning breakfast is served, check out time is 9 AM.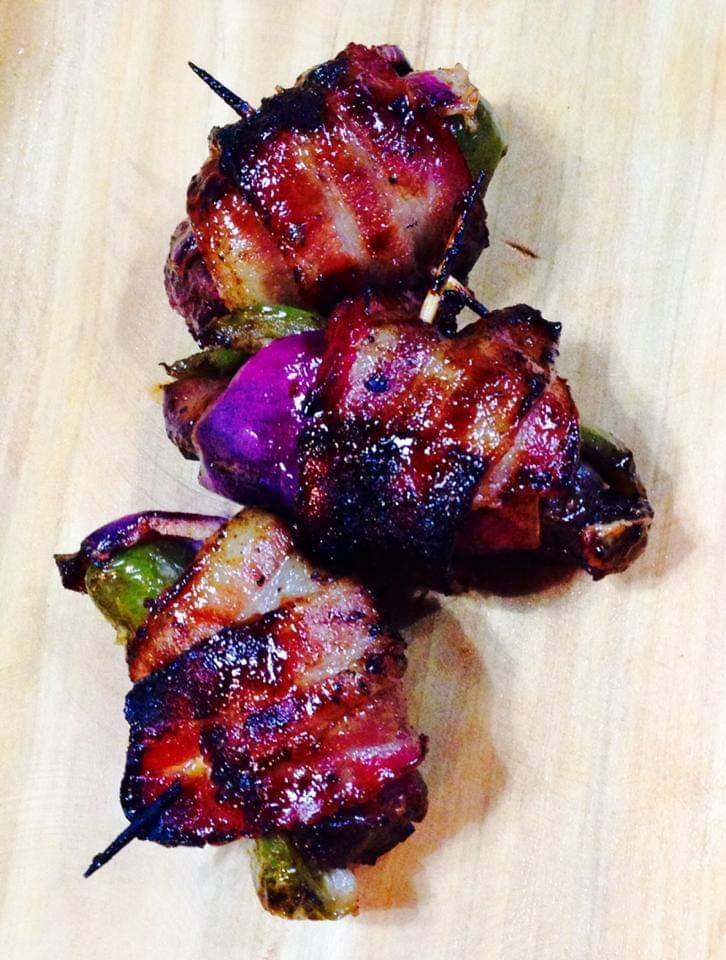 What's Included:
Meals - Return from the hunt to a plate of bacon wrapped quail poppers.
Dinners are hearty and home cooked ending with made from scratch desserts. Some all time favorites are Mike's mesquite grilled Rib eye steak with beer bread and honey butter and Monica's balsamic glazed pork loin with herbed mashed potatoes, chocolate chip cookies, pies or an almond layered bread pudding w/amaretto sauce.
Professional Guides are equipped with All Terrain Hunting Rigs that carry their dogs and a maximum of 3 hunters. Each guide carries 8 plus hunting dogs and will have iced beverages and snacks on the truck.
Game Processing Your birds will be cleaned, packaged and sent home with you in a First Shot Outfitters cooler bag.
Orange First Shot Outfitters Hunting Cap & Cooler Bag
Shells, Liquor & Wine are not provided.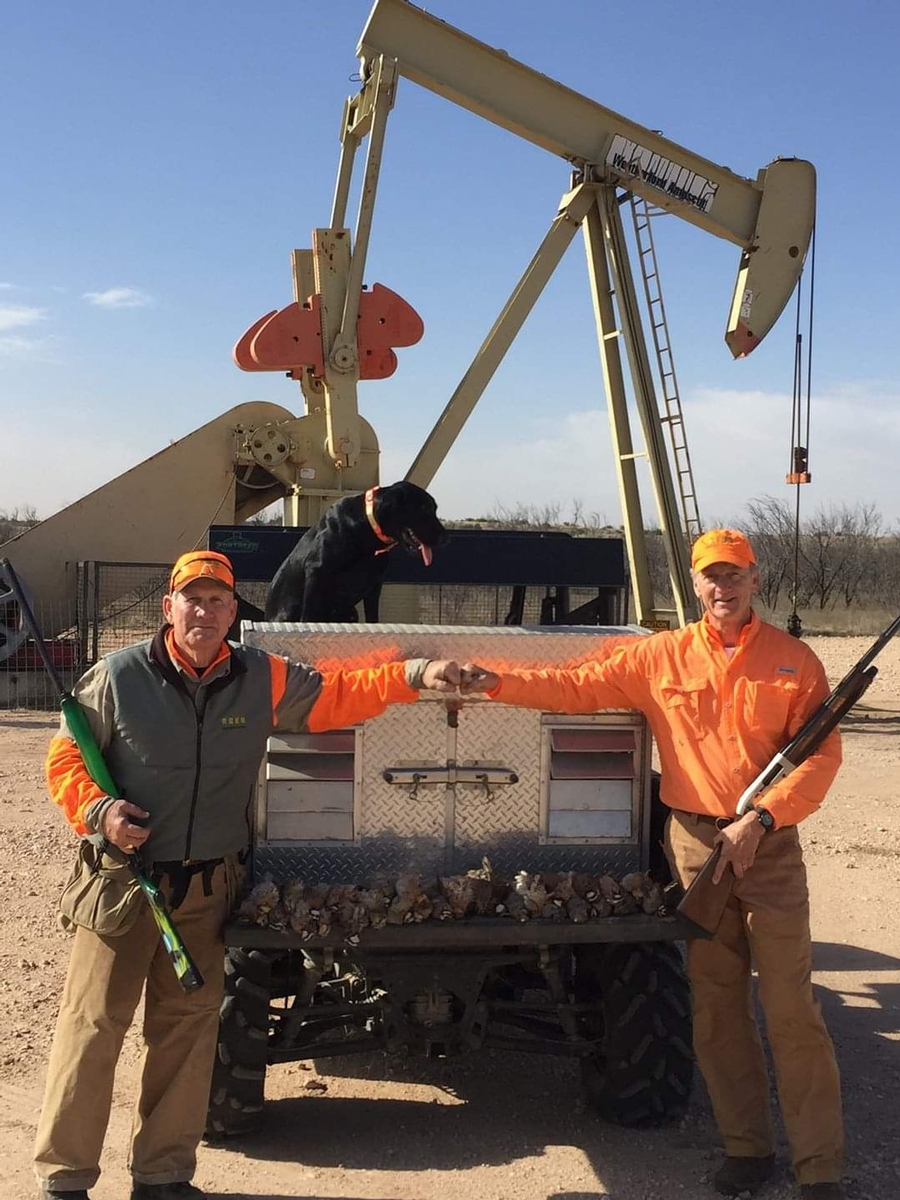 Rates
3 Day Hunt
$3,825 per hunter - 3 hunters per guide
$4,425 per hunter - 2 hunters per guide
2 Day Hunt
$2,550 per hunter - 3 hunters per guide
$2,950 per hunter - 2 hunters per guide
Shuttle Prices
Round trip from the Abilene Airport to the Coleman lodge - $400
Each shuttle will hold 4 people
Not included in Package price
Add A Duck Hunt at No Additional Cost
AM Duck Hunt / PM Quail Hunt
The duck hunt starts at sun up and end at 11AM
You will then head back to the lodge relax and eat lunch
The quail hunt leaves out at 2:30pm and will go until sun down.